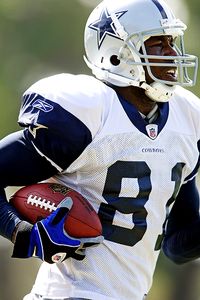 From ESPN, Matt Mosley's random 15 minute conversation with TO at training camp in Oxnard, CA:
The most surprising thing in our 15-minute conversation was hearing him say that he actually thinks Romo has surpassed him in terms of celebrity -- and that he's fine with it.
"It kinda spreads the wealth," he said. "I'm used to all that stuff, so it's nice to see some other guys be in the limelight."
I thought about taking his temperature at this point, but he seemed somewhat lucid. Asked why he seems so content, T.O. talked about his faith.
"My pastor is in prayer for me the minute something goes wrong," he said. "If he hears me say something on TV that he doesn't understand, he'll text me. I just think people are finally realizing that I am a good guy. And it's nice when you have a lot of prayer warriors out there."
I am very cool with that.

So do you think T.O. has really changed?